Proven Player in the Power Industry Launches Renewable Energy Venture to Meet the Changing Needs of Project Developers
Encore is Launched as a New Link in the Renewable Energy Supply Chain
Encore Renewable Energy, LLC, today announced it's spin-off from Global Power Supply, LLC. Encore Renewable Energy represents a new kind of Equipment and Services provider designed specifically to meet the unique and challenging needs of the Renewable Energy Power industry. Encore's mission is to help "utility scale" Renewable Energy Project Developers design, build, and maintain their projects faster and more cost effectively by providing a unique combination of equipment and related services. Their offerings include Equipment Supply, Project Advisory and Asset Disposition Services.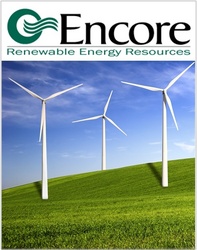 "At Encore we work closely with each of our customers to fully understand their unique requirements, and then leverage our relationships with industry leading manufacturers to bring them the best possible solution to meet their particular project needs" said Dan Firestone, Encore's Chief Executive Officer. Mr. Firestone went on to say "Our goal is to provide our customers with fast, efficient solutions that save them time and money in their project implementations".
In addition to the distribution services Encore provides to its manufacturer partners, Encore also acts as a value-added intermediary for large-scale surplus new equipment, such as wind turbines and transformers, that developers may have as a result of delayed or canceled projects. They also provide advisory services to Project Developers interested in buying or selling early stage projects.
The management team of Encore has deep roots in both the Energy field and Capital Equipment Supply Chain Management. Dan Firestone, the head of this new venture, has been providing these types of solutions for over 30 years, and has assembled a top notch management team to work with him in this exciting new venture.